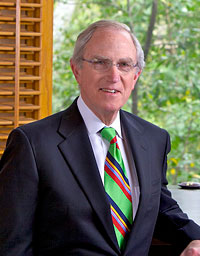 David L. Lane
David L. Lane has been with Wolff Companies since 1989, serving as Executive Vice President and Chief Financial Officer, with responsibility for all of Wolff Companies' financial, investment and legal affairs, as well as public relations, advertising and property management for the company's real estate assets.
He is a 1963 graduate of the Wharton School at the University of Pennsylvania, received an MBA from Harvard Business School in 1965 and earned his JD, cum laude, from the University of Houston Law Center in 2009. He is licensed in Texas as both an attorney and a CPA.
His experience includes the development and sale of over $200 million in high-rise commercial real estate, including buildings for users such as Internorth Corporation, Allied Chemical Corporation and Four Seasons Hotels, Ltd. He has assembled almost $500 million of debt and equity financing, including individual packages as large as $80 million.
Mr. Lane was the Founding Chairman of Riverway Bank, which was a $750 million commercial bank at the time of its merger with Texas Regional Bancshares, whose Board he was invited to join. Texas Regional was a $2.3 billion bank at the time of the merger in 2002, and grew to almost $7 billion at the time of its 2008 merger with Banco Bilbao Vizcaya Argentaria, Spain's second-largest banking institution, in the largest cash transaction ever involving a Texas-based bank.
He is also active in local community affairs, including a two-year term as the President of the Houston Ballet Foundation, during which time the Foundation generated the largest two-year surplus in its history. He is President of the Wortham Center Operating Company, and a current or former board member of the Association for Community Television, the Business ArtsFund, The Houston Lyric Theatre Foundation, and the Greater Houston Committee for Prevention of Child Abuse.
Mr. Lane is a member of the American Bar Association, Texas Bar Association, Financial Executives Institute, American Institute of Certified Public Accountants and Texas Society of Certified Public Accountants, as well as being a past fellow of the Urban Land Institute. He is also licensed in the State of Texas as a real estate broker.
He has published articles in the Houston Law Review and the American Journal of Mediation.
Mr. Lane and his wife, Helaine, have been married since 1969. They have a son, two daughters and five grandchildren.