Leadership
David S. Wolff, Chairman and President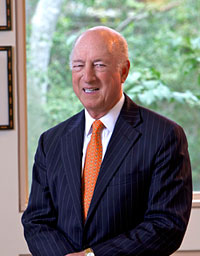 David Wolff is Chairman and President of Wolff Companies, a Houston-based holding company which manages his activities and investments in real estate development, financial assets, professional sports and agriculture.
Born in Philadelphia, Mr. Wolff graduated with honors from Amherst College in 1962 and with an MBA from Harvard Business School in 1964. He has served as a Trustee of Amherst College and is presently a Trustee Emeritus. He has been an adviser to the faculty of Harvard Business School in the development of the study of entrepreneurship and was Chairman of his class's 50th reunion campaign, which raised more money than any other reunion campaign in the school's history.
He performed his military service with the U.S. Coast Guard and, subsequently, as a commissioned officer in the U.S. Navy.
David Wolff founded Wolff, Morgan and Company in 1970, which evolved into Wolff Companies in 1985 and has guided the company to its position as Houston's largest developer of office, business and industrial parks as well as sites for healthcare, hotels, retail and multi-family.
He is a partner in the San Francisco Giants and AT&T Park, San Francisco. His agricultural interests include a 1,680-acre working cattle ranch in Independence, Texas, which he has operated for 36 years, and vineyards in the Napa Valley of California.
During his five decades in Houston, David Wolff has worked on many community endeavors including: the West Houston Association which he co-founded and then chaired for six years; the Houston Parks Board on which he served for 12 years, including two terms as Chairman; the Houston Grand Opera where he was Vice President and Chairman of the Finance Committee; and the Greater Houston Partnership. Mr. Wolff was Chairman of METRO (the Metropolitan Transit Authority of Harris County) from 2004 to 2010.
David and his wife, Mary, have been married for over forty years and have two daughters, two son-in-laws, three granddaughters and two grandsons.
David L. Lane, Chief Financial Officer and Executive Vice President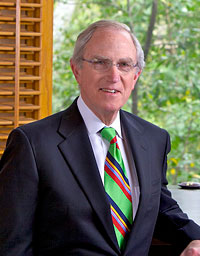 David L. Lane has been with Wolff Companies since 1989, serving as Executive Vice President and Chief Financial Officer, with responsibility for all of Wolff Companies' financial, investment and legal affairs, as well as public relations, advertising and property management for the company's real estate assets.
He is a 1963 graduate of the Wharton School at the University of Pennsylvania, received an MBA from Harvard Business School in 1965 and earned his JD, cum laude, from the University of Houston Law Center in 2009. He is licensed in Texas as both an attorney and a CPA.
His experience includes the development and sale of over $200 million in high-rise commercial real estate, including buildings for users such as Internorth Corporation, Allied Chemical Corporation and Four Seasons Hotels, Ltd. He has assembled almost $500 million of debt and equity financing, including individual packages as large as $80 million.
Mr. Lane was the Founding Chairman of Riverway Bank, which was a $750 million commercial bank at the time of its merger with Texas Regional Bancshares, whose Board he was invited to join. Texas Regional was a $2.3 billion bank at the time of the merger in 2002, and grew to almost $7 billion at the time of its 2008 merger with Banco Bilbao Vizcaya Argentaria, Spain's second-largest banking institution, in the largest cash transaction ever involving a Texas-based bank.
He is also active in local community affairs, including a two-year term as the President of the Houston Ballet Foundation, during which time the Foundation generated the largest two-year surplus in its history. He is President of the Wortham Center Operating Company, and a current or former board member of the Association for Community Television, the Business ArtsFund, The Houston Lyric Theatre Foundation, and the Greater Houston Committee for Prevention of Child Abuse.
Mr. Lane is a member of the American Bar Association, Texas Bar Association, Financial Executives Institute, American Institute of Certified Public Accountants and Texas Society of Certified Public Accountants, as well as being a past fellow of the Urban Land Institute. He is also licensed in the State of Texas as a real estate broker.
He has published articles in the Houston Law Review and the American Journal of Mediation.
Mr. Lane and his wife, Helaine, have been married since 1969. They have a son, two daughters and five grandchildren.
Carolyn Wolff Dorros, Executive Vice President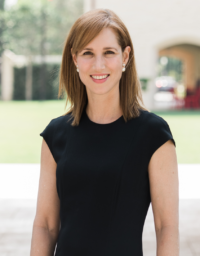 Carolyn Wolff Dorros joined Wolff Companies in 2006 and is currently Executive Vice President. She works on the oversight and management of the company's financial asset portfolios as well as strategic planning, marketing and communications.
Ms. Dorros graduated cum laude from Dartmouth College in 1997 and holds an MBA from Harvard Business School, where she earned honors in her second year. She has served as President of the Harvard Business School Club of Houston and as Chair of her class's 10-year reunion.
Prior to joining Wolff Companies, Ms. Dorros was the Administrative Director of Neurosciences at Stanford Medical Center, where she also served as Director of Business Development. She also worked at Medsite, Inc., as a Product Manager and as APM/CSC Healthcare as a Research Associate.
Ms. Dorros serves as Chair of the Advisory Council of Breakthrough Houston and on the Boards of St. John's School, the Buffalo Bayou Partnership and New Hope Housing as well as the Leadership Cabinet of Texas Children's Hospital and President's Leadership Council of Houston Methodist Hospital.  She is also on the Board of the Wolff Family Foundation.
Ms. Dorros and her husband, Chris, have a daughter and a son.
Kris Marney, Controller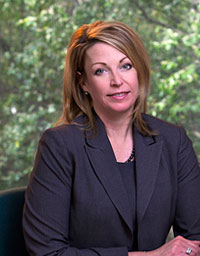 Kris Marney, CPA, CGMA, has been with Wolff Companies for 15 years. She currently serves as Controller and is responsible for financial reporting and analysis, as well as tax management.
Prior to joining Wolff Companies, Kris worked as a chief accountant in both the medical and food service industries. Most notably, she served for three years as Assistant Administrator for a home health care company, where she was integral in the company's growth to become one of the largest JCAHO Accredited independents in its category. She eventually oversaw the successful sale of the business.
Kris is an officer or sits on the board of two Wolff family charitable foundations. She oversees the administration of five regional property associations. She is an active member of The American Institute of Certified Public Accountants, The Texas Society of CPAs, and the Houston Society of CPAs. Kris holds a bachelor's degree from Texas State University in San Marcos, Texas.
Elizabeth Wolff Rogers, Vice President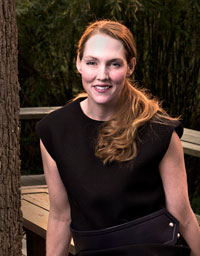 Elizabeth Wolff Rogers joined Wolff Companies in 2005 and is currently Vice President. She works on the planning and development of Gates Ranch as well as marketing and communications.
Ms. Rogers graduated magna cum laude from Amherst College in 1999 and holds a Masters in Real Estate Development as well as Urban Planning from MIT.
Prior to joining Wolff Companies, Ms. Rogers was an Associate at Fremont Realty Capital, a real estate private equity firm, and Legacy Partners, a real estate development firm. She also worked for Catellus Development Company, where she helped to plan and develop Mission Bay, a 500-acre development in downtown San Francisco.
Ms. Rogers is a key member of the Independence Preservation Trust, which spearheads historic preservation and conservation initiatives throughout Washington County, Texas. She is also a member of the Trinity Tomorrow Campaign, a capital campaign for Trinity Episcopal Day School, and helps to oversee the Wolff Family Foundation's gifts to freshmen orientation and scholarships at Amherst College.
Ms. Rogers and her husband, Rob, have two daughters and a son.