Strong Health Care Industry Pushes Projects Ahead in The Energy Corridor
Wednesday, February 8, 2017
Houston's healthcare industry remains strong and continues to be a major driver of development and employment in West Houston. This ongoing trend is especially evident with three high-profile projects underway in The Energy Corridor – new construction of The University of Texas MD Anderson Cancer Center's diagnostic and treatment center, and expansions of Texas Children's Hospital West Campus and Houston Methodist West Hospital – that collectively represent an investment that approaches $1 billion.

"These hospitals are both expanding well ahead of original projections. M.D. Anderson's facility is their first free-standing clinical building outside of the Texas Medical Center (TMC); the plans for size and scope of this project have already been increased to meet patient volume projections that are higher than those made only two years ago," said Carolyn Wolff Dorros, Executive Vice President at Wolff Companies. "And these other two hospitals are both expanding well ahead of original projections. Healthcare growth in the suburbs is driven by population growth in the area as well as increased focus on convenience. Patients don't want the hassle of driving into the TMC when they can receive high quality care close to home – with the added bonus of free parking!"

Houston can expect to see more health care growth and more jobs, according to the Greater Houston Partnership's 2017 Houston Employment Forecast. Health care is the second largest employer in the city, with more than 325,000 Houstonians working in the sector and a projection to add nearly 10,000 new health care jobs this year. The report also notes, "As Houston's population has moved to the suburbs, so has the health care industry…The forecast sees nothing in the near future to disrupt health care's continued growth. The forecast assumes the region's population will continue to grow, thus expanding the industry's patient/client base…"

The University of Texas MD Anderson Cancer Center has started construction on a $169-million, 260,000-square-foot outpatient diagnostic and treatment center in Central Park, a Wolff Companies development. Opening in 2018, the new facility is 50 percent larger than originally planned and will be MD Anderson's first free-standing clinical building constructed outside Houston's Texas Medical Center (TMC). The project was recently recognized as a finalist for the Houston Business Journal's "Deal of the Year" in the healthcare segment.

MD Anderson's $169-million diagnostic and treatment center will be located at the northwest corner of I-10 and Central Park West Boulevard
The new center represents the first phase of a long-term plan by MD Anderson to develop facilities on its 34.5-acre campus in Central Park, located near the intersection of Interstate 10 and North Eldridge Parkway. Originally planned to be 175,000 square feet and to cost just under $114 million, MD Anderson expanded the project's scope as a result of increased patient volume projections and a strategic decision to offer more of the services that have traditionally only been only available on the TMC campus. The revised facility plan also calls for an additional $42 million for major medical equipment.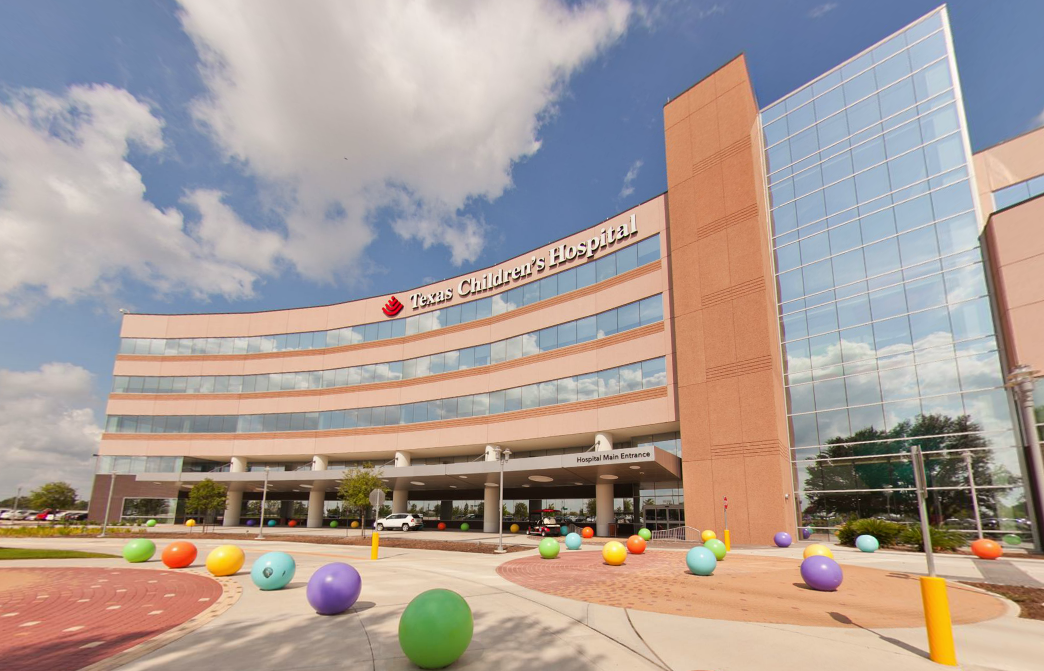 As Texas Children's Hospital West Campus nears its February opening of a new 14-exam room clinic, it will begin construction of a new 22-bed pediatric ICU.
Texas Children's Hospital West Campus, located in the Texas Medical Center – West Campus adjacent to Wolff Companies' Ten Oaks , will soon begin construction on a new $9 million, 22-bed pediatric intensive care unit. This will bring the total number of inpatient beds to 88, up from 24 when the hospital opened in 2010.

Other expansion projects include a new 14-exam room clinic scheduled to open in February. This follows completion of a special isolation unit that opened in October, an interventional radiology unit that opened in April, additions to the perioperative services program completed in June, as well as medical office buildouts and other projects.

"In many ways, we've grown up with the community around us, expanding services and access throughout our short history. However, with West Houston's continued strong population growth, major investments being made by housing developers and two of the area's largest school districts – Katy and Cy-Fair – it was clear West Campus needed to invest significantly to keep up with the services needed most by our community. Two years ago, we laid out a plan to do just that," said Matt Schaefer, president of Texas Children's West Campus on the hospital's blog.

When the expansion campaign is completed, about 10,000 square feet of shell space, less than two percent of the campus' square footage, will remain available for expansion of the hospital's ambulatory care facilities, as well as the sports medicine program. Over the next decade, more expansions are expected including a new patient tower, medical office building and covered parking.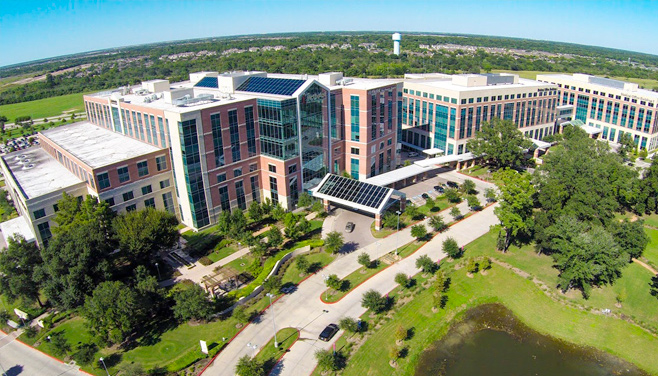 Houston Methodist West Hospital's expansion includes a new, 228,700-square-foot, six-story hospital tower that will include an additional 95 beds and 22 emergency rooms.
Houston Methodist West Hospital continues to forge ahead with its massive, $170 million capital expansion program, which broke ground on Phase Two projects last April and is scheduled for completion in mid-2018.

Located at 18500 Katy Freeway, adjacent to Wolff Companies' Ten Oaks, the hospital's construction plan includes a 228,700-square-foot, six-story hospital tower. The building will feature 95 additional beds, 22 emergency rooms, an expanded maternity unit and expanded medical imaging services. The project also includes a new, six-story parking garage for 867 vehicles.

Since opening in 2010, the hospital has built out all of its shell space, according to a Houston Business Journal report last April. The hospital currently has 193 licensed beds, 15 operating rooms and delivers about 250 babies per month.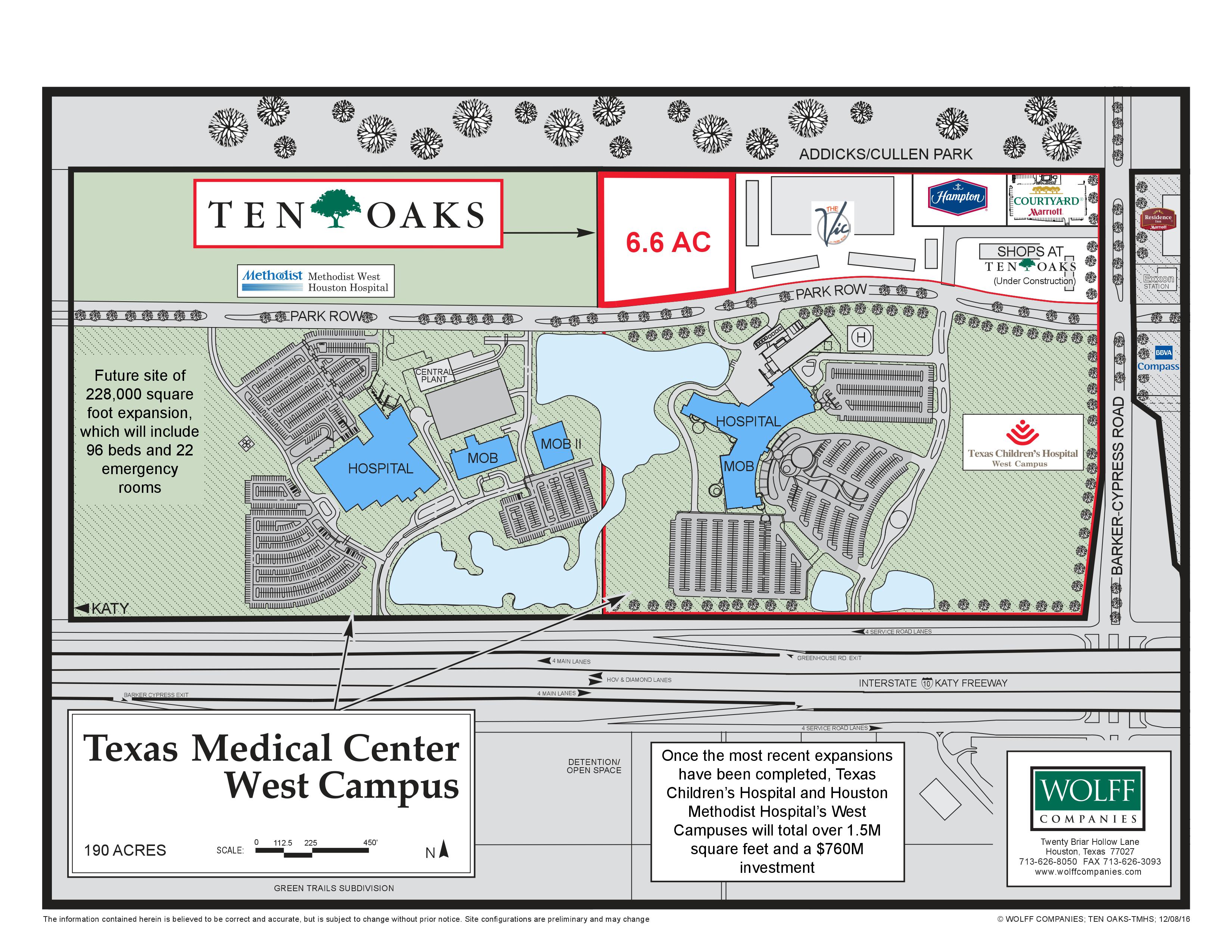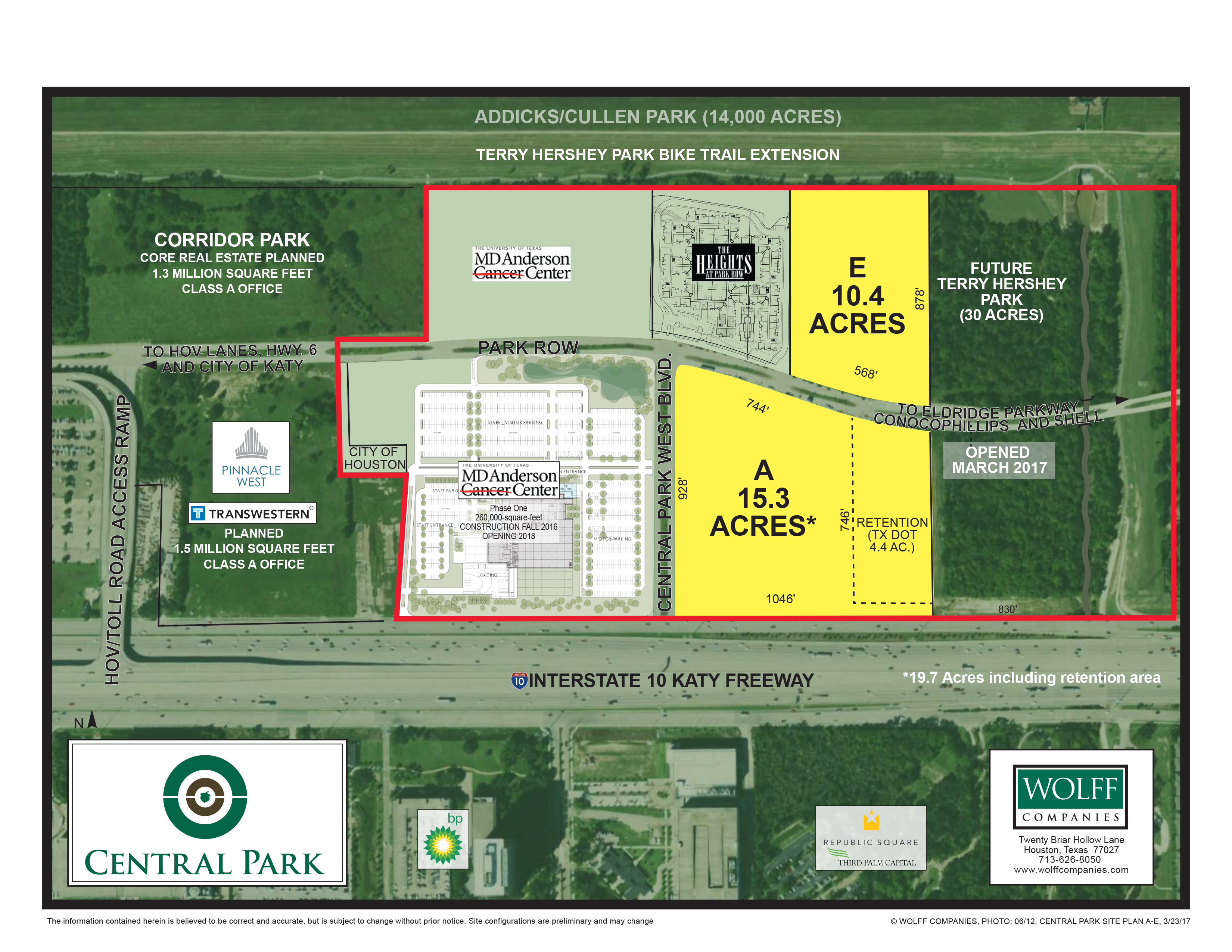 Sites are available in Ten Oaks (adjacent to Houston Methodist and Texas Children's in Texas Medical Center West Campus) and Central Park (adjacent to MD Anderson's planned facility).

At Wolff Companies, we have a long-standing history of commitment to help stimulate quality development in West Houston, including our city's world-class healthcare institutions. We currently have prime sites available in The Energy Corridor, offering strategic proximity to this growing concentration of medical facilities.
For more information about these sites or any Wolff Companies property, please visit www.wolffcompanies.com.