Ten Oaks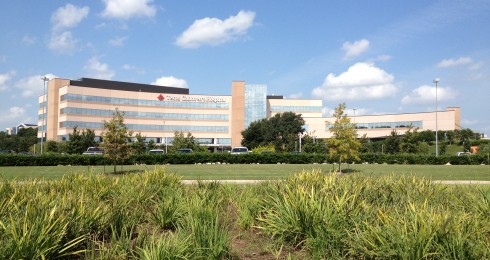 Ten Oaks is adjacent to the Texas Medical Center – West Campus
Overview
Ten Oaks is immediately adjacent to the Texas Medical Center – West Campus. It is a master-planned environment located at the northwest intersection of Park Row and Barker Cypress Road. Texas Children's Hospital and The Methodist Hospital System have completed construction on two hospitals and medical office buildings totaling over 1.5 million square feet of improvements just across Park Row from Ten Oaks. The first phase of the new Texas Medical Center – West Campus involved an investment of over $500 million and encompasses a tract of land roughly equal to that of the original Texas Medical Center Campus. Subsequent development will bring the total dollars invested to $765 million.
In October of 2015, Western International open a 135 room Courtyard by Marriott. Next door, a Hampton Inn & Suites by Hilton is currently under construction with an opening scheduled for 2016. Further west, Hunington Properties is planning a 352-unit luxury multifamily living complex. Both developments will be across the street from the Texas Children's and Methodist's West Houston hospitals and within walking distance of major employers such as Wood Group, Mustang Engineering and Sercel.
Ten Oaks is situated at the west end of The Energy Corridor, the central business district in the greater west Houston metropolitan area. Located in the immediate vicinity of the West Campus are corporate or division headquarters for major companies such as BP, ConocoPhillips, Shell Oil and many others. Major employers are attracted to convenient access by the well-educated workforce found surrounding The Corridor and the variety and quality of housing opportunities in the area.