Ten Oaks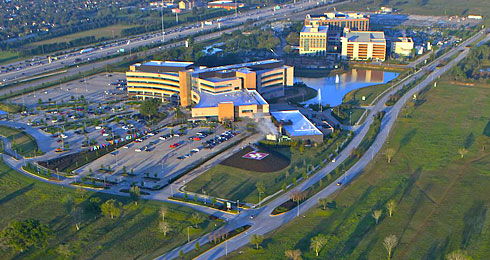 Ten Oaks is adjacent to Texas Medical Center – West Campus
Property Information
Size and Location
Ten Oaks is an 83-acre development at the corner of Interstate 10 and Barker Cypress Road. It has over 1,900 feet of frontage on Interstate 10 (the Katy Freeway), which adjoins the south boundary of the development. Immediately east of Ten Oaks is the Park 10 Regional Business Center. The project is bounded on the north by the levee for Addicks/Cullen Park, providing a buffer for the residential area north of the levee. The portion of Ten Oaks lying between I-10 and Park Row is also part of the Texas Medical Center - West Campus. Ten Oaks is bounded on the west by wooded acreage owned by The Methodist Hospital System.
Accessibility
Interstate 10 and Barker Cypress Road is a strategic intersection in west Houston. Interstate 10 provides quick access to some of Houston's finest residential communities as well as other major commercial centers of the city. The freeway was recently widened to 22 lanes, including managed lanes and the service roads. The Katy Freeway is one of the busiest in the region and carries over 328,000 cars each day.
Barker Cypress Road is the first major thoroughfare west of the Cullen Park system providing access to Interstate 10 for residents of west Houston. It connects Interstate 10 to U.S. 290 (the Northwest Freeway). Harris County is also studying Barker Cypress for an extension to the south to connect it to FM 1093, at the Westpark Toll Road.
Park Row, the "Main Street" of The Energy Corridor, is a four-lane major thoroughfare that parallels the Katy Freeway and runs through the heart of Central Park. In March 2017, the last remaining segment was completed, greatly enhancing mobility in the are, by providing a continuous thoroughfare between North Eldridge Parkway, through Ten Oaks, and all the way to Katy.
State Highway 6, located east of the site, is a six-lane highway providing high-speed north-south access through the western part of the metropolitan region.
Development Standards
Ten Oaks is subject to protective covenants that ensure high-quality development. The covenants and related development guidelines establish minimum standards for land use, building materials, landscaping, signage and other similar matters.