Central Park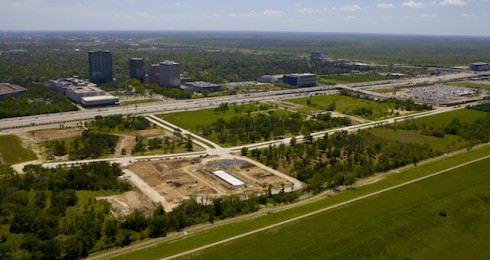 Park Row and Central Park West Blvd connect Central Park to the thriving Energy Corridor
Overview
Wolff Companies' Central Park is the largest remaining parcel of land available for development in The Energy Corridor. It is a master-planned environment located on the north side of Interstate 10 between North Eldridge Parkway and State Highway 6. Envisioned uses include high-end office, multi-family, hotel, retail and healthcare.
MD Anderson Cancer Center, the nation's leading cancer care hospital and our first tenant, is building a 260,000-square-foot outpatient diagnostic and treatment center, opening in 2018. "The Heights at Park Row", a 342-unit luxury apartment building developed by The Worthing Companies, opened in October of 2015.
The development is accessible directly from Interstate 10, Park Row and the Interstate 10 Managed Toll Lanes. Central Park's superior accessibility and location make it an ideal corporate headquarters site for the growing Houston market, as well as other commercial uses.
In developing the project, Wolff Companies continues its legacy of respecting and enhancing a property's natural environment. We have established protective covenants to control signage, landscaping, parking and building materials. Furthermore, Central Park is adjacent to Terry Hershey Park and Addicks Reservoir, which ensures that 50% of the development will always be bordered by permanent green space. These features assure that Central Park remains a first-rate development that will not only maintain, but also increase in value over time.