Central Park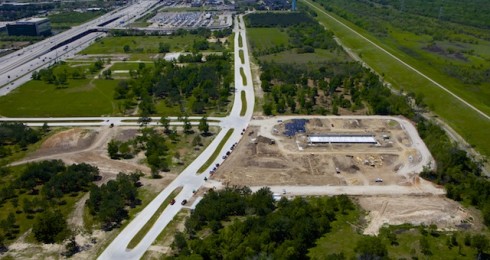 Park Row connects Central Park to Eldridge and west to the City of Katy
Property Information
Size and Location
Central Park is a 80-acre development situated in the heart of The Energy Corridor. It is located is on the north side of Interstate 10 between North Eldridge Parkway and State Highway 6, with over 1,500 feet of frontage on Interstate 10. Central Park is bordered by Terry Hershey Park to the east and by Addicks/Cullen Park on the north. METRO's Addicks Park & Ride is located just to the west.
Accessibility
Interstate 10, the Katy Freeway, provides quick access to some of Houston's finest residential communities as well as other major commercial centers of the city. The freeway was recently widened to 22 lanes, including managed lanes and service roads. The Katy Freeway is one of the busiest in the region and carries over 328,000 cars each day.
An Interstate 10 Managed Lanes access ramp is located just west of Central Park. This allows for quick ingress and egress to points east and west, even in periods of high congestion.
Park Row, the "Main Street" of the Energy Corridor, is a four-lane major thoroughfare that parallels the Katy Freeway and runs through the heart of Central Park. In March 2017, the last remaining segment was completed, greatly enhancing mobility in the area, by providing a continuous thoroughfare between North Eldridge Parkway all the way to Katy.
State Highway 6, located west of the site, is a six-lane highway providing high-speed north-south access through the western part of the metropolitan region.
Development Standards
Central Park is subject to protective covenants that ensure high-quality development. The covenants and related development guidelines establish minimum standards for land use, building materials, landscaping, signage and other similar matters.