Park 10 Update
Friday, July 22, 2016
A new hotel is open, Sewell Mercedes-Benz of West Houston is under construction and new companies have relocated to the Park 10 Regional Business Center in The Energy Corridor.

Sewell Mercedes-Benz of West Houston will be strategically located in The Energy Corridor, at the heavily traveled Interstate 10 and Highway 6 interchange.
Sewell Mercedes-Benz of West Houston to open soon
A car dealership brand known for stellar service is coming to Houston: Sewell Mercedes-Benz of West Houston . Located at the northwest corner of I-10 and State Highway 6, construction is underway on a 200,000-square-foot facility on a 15.3-acre site. The store will repurpose an old Sam's Club building and feature an 18-vehicle showroom, indoor display area for 200 vehicles, and an AMG performance center.
When opened, this will be Sewell's first Mercedes franchise and fifth dealership in Houston including a Cadillac dealership also in The Energy Corridor. The 104-year-old company owns dealerships in Dallas, Fort Worth and San Antonio. Owner Carl Sewell is also known as the author of Customers for Life, an international best-selling book that is still in print.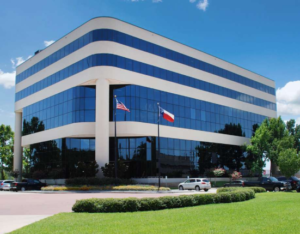 First Service Credit Union has positioned itself for future growth from its new headquarters in Park 10.
First Service Credit Union moving headquarters to Park 10
First Service Credit Union will soon call Park 10 home after they complete their relocation from northeast Houston. The financial institution purchased the six-story, 110,452-square-foot building at 16430 Park Ten Place, which is four times the space of First Service's current headquarters office and allows for anticipated growth.
First Service will initially occupy 35,000-square-feet of the building, with current tenants occupying the majority of the remaining space. The company will move its executive team, mortgage, collections, accounting, technology, and call center operations. First Service also will offer a full-service branch and drive-through window.
"The new facility gives us more than enough room to grow over the next decade," said Dave Bleazard, president of First Service Credit Union, in an announcement. "It is also a great real estate investment for us, with tenants that will offset some of our costs."
Established in 1977, First Union Credit Union includes 10 area branches and more than 58,500 members.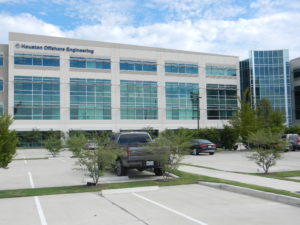 G&A Partners moved from the Galleria and joins Houston Offshore Engineering in Transwestern's Westgate complex in Park 10.
G&A Partners relocate to Park 10
G&A Partners, a human resource outsourcing provider, has relocated to Transwestern's Westgate complex in Park 10. The company's new space, located at 17220 Katy Freeway, is about 15,000-square-feet larger than its previous location in the Galleria area. Although G&A Partners wanted more space, they also sought a better location.
"We needed more space, and in the area where we were, it was very difficult to find. There was a lot of congestion because of the area," said Tony Grijalva, G&A's chairman and CEO, in an interview with the Houston Business Journal. "We found this great location in the Energy Corridor on the Katy Freeway. We felt that given the locations of our employees and the distances to commute and so forth, it was a pretty decent location to accomplish what we wanted to."
The four-story-building is part of a three-building, 660,000-square-foot complex developed by Transwestern in Park 10 at I-10 and Innovation Park Drive (formerly Houston Chronicle Blvd.).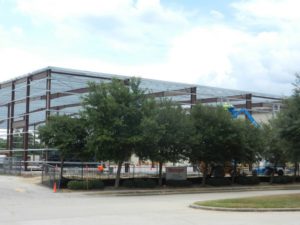 Sercell Incorporated is expanding at its Park 10 campus again with a 25,000-square-foot addition.
Sercel Expands, Again
Sercel Incorporated, a global leader in the design, manufacturing and distribution of seismic acquisition equipment continues to grow. The company, headquartered in Nantes, Franceis expanding its facility at 17200 Park Row in Park 10. Metzger Construction Company is building the approximately 25,000-square-foot-addition to the west building on the company's 27-acre campus. Sercel added a 66,000-square-foot building on its campus in 2009.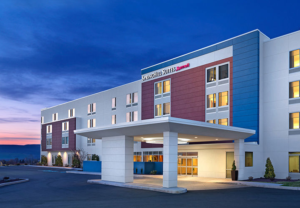 The Energy Corridor continues to see hotel construction to meet the needs of business travelers including the newly opened SpringHill Suites by Marriott in Park 10.
SpringHill Suites by Marriott Now Open
OM ShantiHospitality, LLC, recently opened an all-suite SpringHill Suites by Marriott Houston I-10 West/Energy Corridor in Park 10, located at 1350 Broadfield Boulevard. The 55,000-square-foot hotel features 112 rooms and provides amenities in high demand by visitors in The Energy Corridor, particularly business travelers on extended assignments. Amenities include vibrant lobbies with flexible spaces for working, meeting or relaxing, a 24/7 market for snacks and necessities, complimentary breakfast, pool and workout facility.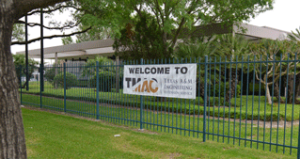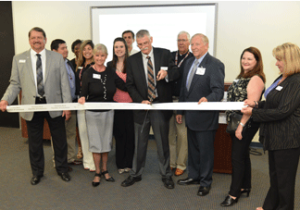 A new training facility opened by Texas A&M Engineering Extension Service will help support the Houston metro area manufacturing economy.
Texas A&M Engineering Extension Service opens new training facility
A new 9,000-square-foot training facility has opened in Park 10 by the Texas A&M Engineering Extension Service (TEEX) to better serve small- and mid-sized manufacturers in the Gulf Coast region. Located at 1440 South Creek Drive, the center will also allow the TEEX to provide training programs locally, saving companies travel expenses for personnel living and working in the Houston metro area.
"We need to promote the importance of manufacturing to the economy, and I can't think of a better place than Houston to focus our efforts," said TEEX Director Gary Sera. "We now have a place where we can deploy into the major manufacturing hub, not just in Texas but in the United States. We are honored and privileged to be here."
****
The Energy Corridor is a vibrant, growing community of businesses and residents, and remains among the most sought locations in the Greater Houston area. Wolff Companies currently has prime sites available in The Energy Corridor:
Ten Oaks: A 6.6-acre site adjacent to Houston Methodist and Texas Children's in the Texas Medical Center-West Campus
Central Park: Two sites, 10.4-acres and 15.3-acres, located adjacent to the future MD Anderson Cancer Center-West Campus, The Heights at Park Row luxury apartments and the future extension of Terry Hershey Park
For more information about Wolff Companies, including available sites in Ten Oaks and Central Park in The Energy Corridor, please visit www.wolffcompanies.com or call David Hightower at 713-626-8050.