Energy Corridor Healthcare Investments Approach $1 Billion
Wednesday, April 13, 2016
The Texas Medical Center West Campus celebrated its latest construction groundbreaking – Houston Methodist West Hospital's second phase of its continuing expansion. The new hospital tower will be one of three high-profile construction projects by healthcare organizations in The Energy Corridor this year. Together, these projects represent an additional investment of almost $344 million, bringing the total dollars invested in healthcare facilities and equipment in The Energy Corridor near to $1 billion. These facilities will provide needed healthcare resources not only to those who live and work in The Energy Corridor, but also serve as a regional healthcare center to people in Harris, Waller, and Fort Bend counties and beyond.
Located at the intersection of Barker Cypress Road and Interstate 10 between Highway 6 and the Grand Parkway, Houston Methodist West Hospital's $170 million, six-story, 228,700-square foot hospital tower will include additional beds, emergency rooms, an expanded maternity unit and medical imaging services. The project also includes a six-story, 800-vehicle garage, which will offer free parking to patients and visitors. The buildings should be completed and ready to receive patients in the second quarter of 2018.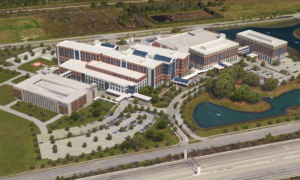 Houston Methodist West Hospital kicked off construction on a $170 million tower set to open in 2018.
"We congratulate Houston Methodist, which is growing in step with the increasing needs of the greater west Houston area, including people who travel from great distances to receive high quality medical care," said David W. Hightower, Executive Vice President and Chief Development Officer of
Wolff Companies
.
Immediately adjacent, Texas Children's Hospital West Campus continues work on its current $50 million capital improvement plan. Set for completion in 2017, the phase two project includes additional acute-care beds, operating rooms, additional critical-care beds and clinics to support the OR expansion.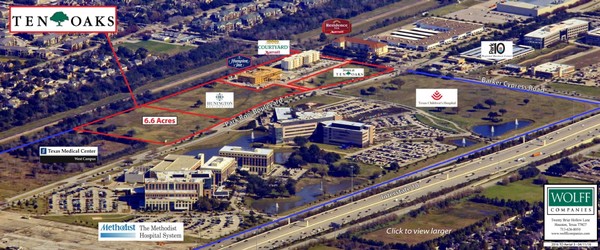 By 2018 at Texas Medical Center West Campus, two world class healthcare institutions will have invested $765 million to better serve greater West Houston.
Also in The Corridor, The University of Texas MD Anderson Cancer Center will break ground this summer on a $114 million diagnostic and treatment center in Wolff Companies' Central Park on I-10 between Eldridge and State Highway 6. The 170,000-square-foot building will house $42 million in major capital equipment and represents the first phase of MD Anderson's master plan for its 34 acre site in the park.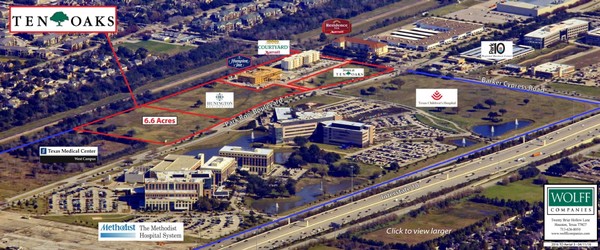 MD Anderson's first phase, a $114 million diagnostic and treatment center, will be located at the northwest corner of I-10 and Central Park West Boulevard.
Carolyn W. Dorros, Vice President of Wolff Companies, added, "The investment that these three top tier hospitals are making in The Energy Corridor demonstrate their commitment to deliver high quality, tertiary and quaternary care closer to where their patients live and work – in the growing greater West Houston market."
At Wolff Companies, we have select sites within close, strategic proximity to Methodist West Hospital, Texas Children's Hospital West Campus and the forthcoming University of Texas MD Anderson Cancer Center in Central Park. All are ideal for medical, corporate office, high density residential, institutional, hospitality and retail uses.
For more information about these sites or any Wolff Companies property, please visit www.wolffcompanies.com or contact David Hightower at 713-626-8050.
Thank you,
David W. Hightower, CCIM, CRE
Executive Vice President
Wolff Companies
Phone: 713-626-8050
dwh@wolffcompanies.com