Another Energy Giant Increases Presence in The Energy Corridor
Thursday, September 29, 2016
Energy Giant Enlarges Presence in The Energy Corridor
Shell Oil Company announced this week it is moving the remainder of its employees from downtown Houston early next year, consolidating their Houston operations to its 43-acre Woodcreek Campus, located on Interstate 10 at Dairy Ashford, and to the Shell Technology Center on State Highway 6. The move will bring 3,400 additional Shell employees to The Energy Corridor. This represents a larger trend of companies bringing employees together in campus like environments with new and efficient buildings that are close to where employees want to live. With BP and Conoco located to the southwest and west, respectively, there are three energy giants along two miles of Interstate 10 in The Energy Corridor – all adjacent to Wolff Companies' Central Park.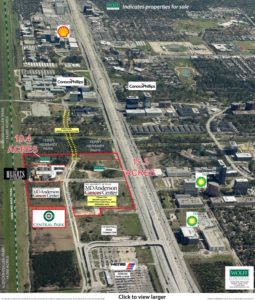 Three energy giants – BP, ConocoPhillips and Shell – are adjacent to Central Park.  Two more – CITGO and Phillips 66 – are located only minutes away.
Shell was a first mover to West Houston, building their first building on the 43-acre Woodcreek Campus in the early 1980s. Originally 820,000 square feet, the campus has undergone several expansions and is now comprised of seven buildings totaling 2,294,000 square feet of office, conference, dining and other amenities. The latest phase, completed in 2014, included two twelve story buildings containing 760,000 square feet and an eight-level garage with 1,530 parking spaces.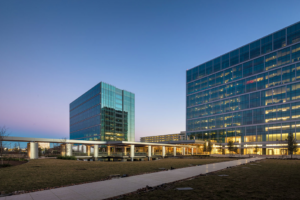 The most recent phase of Shell's Woodcreek Campus expansions included two twelve-story office buildings containing 760,000 square feet, designed by HOK. Completed in 2014, the expansion also included an eight-level garage with 1,530 parking spaces.
Shell's move is indicative of other trends driving corporate relocations to campus environments, said Carolyn Wolff Dorros, Vice President at Wolff Companies. "Large corporations recognize the benefits of bringing all of their people together in a campus like environment. We see increased desire for more efficient, larger floor plates that eliminate long waits for an elevator or having to go floor to floor for meetings. Corporations also want to be near where their employees want to live, in locations with easy access and available parking."
"Shell employees have long known the benefits of living and working in West Houston, one of the most dynamic areas in the region. With Shell's increased presence in The Energy Corridor, we expect that even more of their employees will seek to live here – not only to be closer to work, but also to enjoy the lifestyle and amenities here," said David W. Hightower, Executive Vice President of Wolff Companies and Chairman of The Energy Corridor District. "In time, we can expect to see increased demand for nearby multi-family residential, hotels and retail services. When the energy industry rebounds, the effects of Shell's location here will be magnified."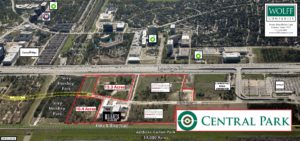 Wolff Companies' Central Park is strategically located in close proximity to Houston's energy giants, and will soon be home to MD Anderson's $169-million diagnostic and treatment center.
Shell noted its significant ties to Houston in a statement issued by the company, "Shell values our position and presence in the Houston area – for our ongoing business, offshore and onshore training needs, and long-time relationships in the community. Houston also remains critical to our core business; it's where we have much of our expertise, including engineering and operations support, as well two technology/research centers."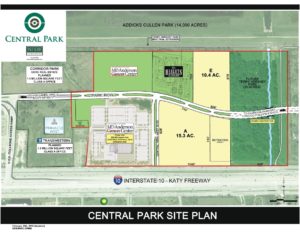 Wolff Companies' Central Park, a 78-acre mixed-use development, is strategically located in the heart of The Energy Corridor, home to more than 300 multinational companies. Adjacent to BP, ConocoPhillips and Shell, Central Park is ideal for corporate office, high-density residential, institutional, hospitality and retail. As the future home of MD Anderson's $169-million, 216,000 square foot diagnostic and treatment center, Central Park is also attractive for healthcare/medical facilities.
For more information about these sites or any Wolff Companies property, please visit www.wolffcompanies.com or contact David Hightower at 713-626-8050.