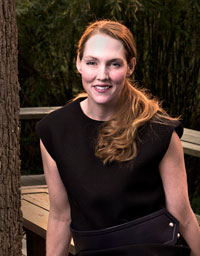 Elizabeth Wolff Rogers
Elizabeth Wolff Rogers joined Wolff Companies in 2005 and is currently Vice President. She works on the planning and development of Gates Ranch as well as marketing and communications.
Ms. Rogers graduated magna cum laude from Amherst College in 1999 and holds a Masters in Real Estate Development as well as Urban Planning from MIT.
Prior to joining Wolff Companies, Ms. Rogers was an Associate at Fremont Realty Capital, a real estate private equity firm, and Legacy Partners, a real estate development firm. She also worked for Catellus Development Company, where she helped to plan and develop Mission Bay, a 500-acre development in downtown San Francisco.
Ms. Rogers is a key member of the Independence Preservation Trust, which spearheads historic preservation and conservation initiatives throughout Washington County, Texas. She is also a member of the Trinity Tomorrow Campaign, a capital campaign for Trinity Episcopal Day School, and helps to oversee the Wolff Family Foundation's gifts to freshmen orientation and scholarships at Amherst College.
Ms. Rogers and her husband, Rob, have two daughters and a son.